TO SELL YOUR HOUSE...
Select your real estate company by the quality of their service, not by the size of the company!
We reach buyers all around the world! People searching on-line for anything having to do with real estate in the Fort Worth area see our ads. Buyers interested in charming older homes, the fine older neighborhoods in southwest or west Fort Worth or the TCU area visit this web site!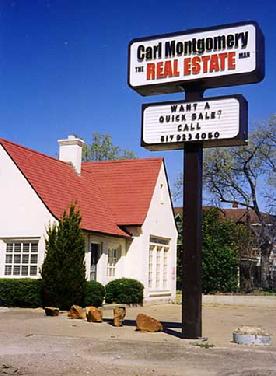 Our office has the advantage of great exposure on S. University Dr. between the Fort Worth Zoo and the TCU campus
There are several good reasons why a higher percentage of our listings sell and they sell faster on average than properties listed with any of the large real estate companies!
Big real estate companies cannot provide the high level of service that we do! They attempt to handle too many listings at a time, they rely on unlicensed assistants to do much of the work and their agents simply don't have Carl's experience!
Are you considering selling your home? Would you like to know its current market value? We will inspect your property and prepare a comparative market analysis for you at no charge! Call us today at 817-923-4050 or click here to contact us by e-mail.
We would like to handle the sale of your property! If you saw WHY WORK WITH US? you know that Carl's 35 years experience in real estate, home design and construction allows us to market your property not only for what it is, but also for what it can become!
We always have buyers for good properties!
________________________________________________________________________________
________________________________________________________________________________
We are ready to go to work to sell your property!
If you would like for us to contact you regarding the sale of property, please fill in the blanks below and click the "Send" button.
We will sell your property quickly and for the right price!